About the Sex Workers Project
The Sex Workers Project provides client-centered legal and social services to individuals who engage in sex work, regardless of whether they do so by choice, circumstance, or coercion. One of the first programs in the nation to assist survivors of human trafficking, the Sex Workers Project has pioneered an approach to service grounded in human rights, harm reduction and in the real life experiences of our clients. Our professional service providers are multi-lingual, non-judgmental and bring more than ten years of experience.
As the only US organization meeting the needs of both sex workers and trafficking victims, the Sex Workers Project serves a marginalized community that few others reach. We engage in policy and media advocacy, community education and human rights documentation, working to create a world that is safe for sex workers and where human trafficking does not exist.
News from SWP
As winter is turning to spring, we have felt a potent sense of momentum building at the Sex Workers Project.
We are ecstatic to share with you that The American College of Trial Lawyers selected SWP as the recipient of the 2014 Emil Gumpert Award. This prestigious and competitive award of $100,000 honors our track record of excellence and will support SWP in bringing an experienced and critical eye to evaluating and engaging with the new NYS Human Trafficking Intervention Courts.
SWP is also thrilled that Co-Director Sienna Baskin was awarded a Fulbright U.S. Scholar Grant to take a three-month sabbatical in 2015 to study New Zealand's legal approach to prostitution geared towards safeguard the health and rights of sex workers.
The SWP team is also proud to be bringing an informed edge to mainstream dialogue on sex work. Sienna recently appeared on MSNBC's All in with Chris Hayes and Co-Director Crystal DeBoise spoke to HuffPost Live.
Please save Thursday, June 5th, 2014 for an evening of stories, celebration and garnering support with the SWP community.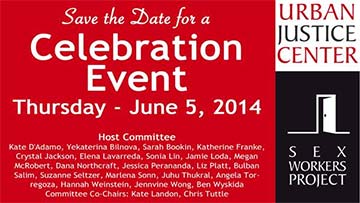 Our team wants to mark all of this success, and more with, you!
Sincerely,
Liz Afton, Sienna Baskin, Melissa Broudo, Crystal DeBoise, Lynly Egyes, Braeden Lentz and Robin Richardson