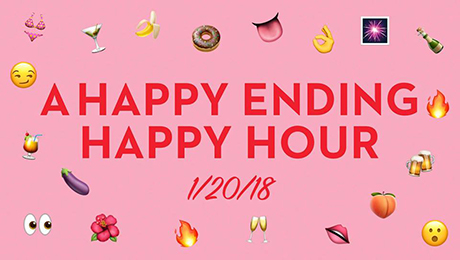 Support SWP at a Happy Ending Happy Hour sponsored by feminist bar Butter and Scotch this Saturday, January 20th! $1 from every Magic Wand cocktail will help fund our work advocating for the decriminalization of sex work and providing human-rights centered legal and social services to sex workers and survivors of human trafficking. Come out and enjoy some delicious cocktails for a good cause.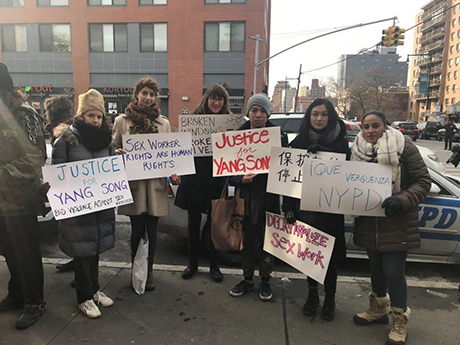 In recent news, the Sex Workers Project co-sponsored a rally on December 17th to protest the murder of immigrant worker Yang Song during an NYPD vice sting of a massage parlor. See our statement for International Day to End Violence Against Sex Workers. (Also available in Spanish, Simplified Chinese, and Traditional Mandarin)
About the Sex Workers Project
The Sex Workers Project provides client-centered legal and social services to individuals who engage in sex work, regardless of whether they do so by choice, circumstance, or coercion. One of the first programs in the nation to assist survivors of human trafficking, the Sex Workers Project has pioneered an approach to service grounded in human rights, harm reduction and in the real life experiences of our clients. Our professional service providers are multi-lingual, non-judgmental and bring more than ten years of experience.
As the only US organization meeting the needs of both sex workers and trafficking victims, the Sex Workers Project serves a marginalized community that few others reach. We engage in policy and media advocacy, community education and human rights documentation, working to create a world that is safe for sex workers and where human trafficking does not exist.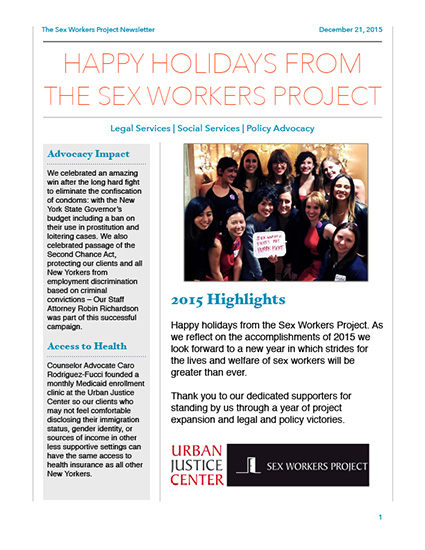 Download newsletter [23MB]