About the Sex Workers Project
The Sex Workers Project provides client-centered legal and social services to individuals who engage in sex work, regardless of whether they do so by choice, circumstance, or coercion. One of the first programs in the nation to assist survivors of human trafficking, the Sex Workers Project has pioneered an approach to service grounded in human rights, harm reduction and in the real life experiences of our clients. Our professional service providers are multi-lingual, non-judgmental and bring more than ten years of experience.
As the only US organization meeting the needs of both sex workers and trafficking victims, the Sex Workers Project serves a marginalized community that few others reach. We engage in policy and media advocacy, community education and human rights documentation, working to create a world that is safe for sex workers and where human trafficking does not exist.
SWP End Of Year Appeal 2012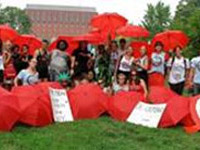 Greetings from the Sex Workers Project at the Urban Justice Center!
It's an exciting and crucial time to be a supporter of the Sex Workers Project. In the aftermath of a devastating hurricane, at the Sex Workers Project we are reminded of how the most vulnerable people in our community are affected when resources are tight. While our office was quickly able to resume services, we send our thoughts to those who are still rebuilding.
This year we celebrated our 10th anniversary, and our resolve to fight for the rights of sex workers and trafficking survivors is stronger than ever.
This year we travelled to Mexico to release our groundbreaking report, The Road North: The Role of Gender, Poverty and Violence in Trafficking from Mexico to the U.S. We held our first Lobby Day on key public health issues affecting sex workers in New York City. At the International AIDS Conference this summer, we organized with sex workers around the globe to hold public health officials and policy makers accountable.
We also increased our full time staff to five, now including three attorneys and two social workers helping sex workers and survivors of trafficking achieve immigration status, clear criminal records, fight labor abuses, report violence, and gain access to a full range of opportunities for their futures.
In the words of one of our clients after her criminal record was vacated, "The Sex Worker Project showed me that good people exist, trusting others is possible, that I needed to release the past, be open to the possibility of justice."
The Sex Workers Project is still the only legal and social services organization with our unique mission. We need you to help us continue to grow.
Please make a donation online here or mail a check to:
Urban Justice Center (Sex Workers Project in Memo Line)
123 William Street, 16th Floor
New York, NY 10038
All donations are fully tax-deductible. If your employer offers a matching gift program, your donation can go further. We deeply appreciate your ongoing support and please know that we cannot do this without you!
Sincerely,
Crystal DeBoise, Sienna Baskin, Andriana Ongoiba, Lynly Egyes, Melissa Broudo, and Braeden Lentz
The Sex Workers Project Staff.